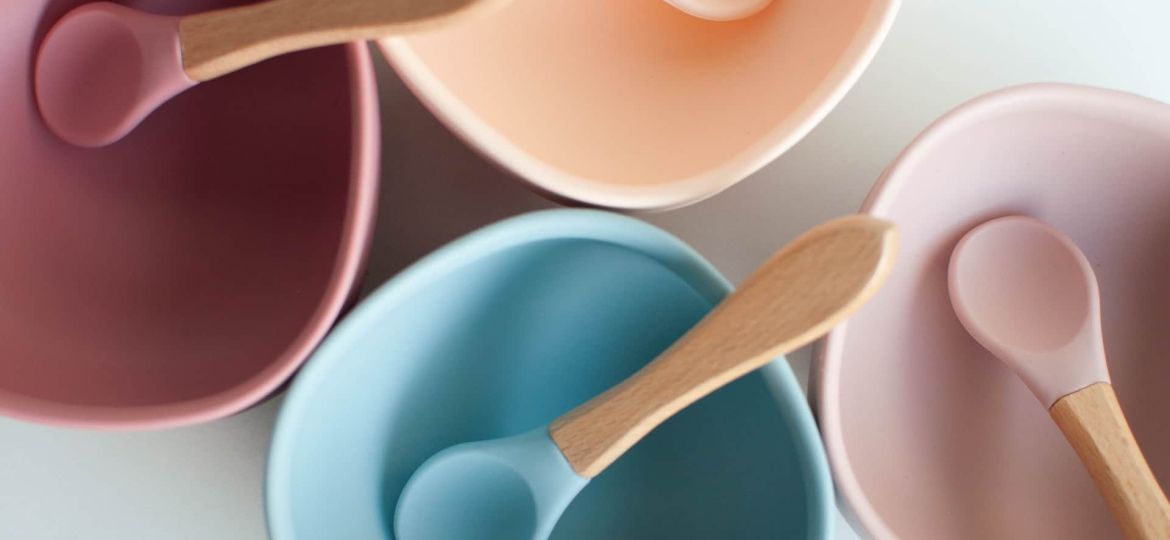 Silicone dishes are a resounding success with the little ones. Indeed, it has become an indispensable childcare accessory for baby's first meals, as this material has so many advantages. Resistant and light, its handling is easy for our children's little hands. This material also offers a wide choice of colors and shapes for a fun and playful tableware.
What is silicone?
Unlike plastic, which is increasingly criticized, silicone is a stable and non-toxic material derived from silicon. Indeed, it does not interact with food, whether liquid or solid. With its softness, silicone is therefore ideal to be the main component of your baby's dishes.
It is part of the rubber family by its appearance, and has a much longer life than plastic. Non-stick, stain resistant, waterproof, flexible: it is truly an ally in the kitchen, which allows you to limit the use of disposable accessories.
Silicone: the practical choice for baby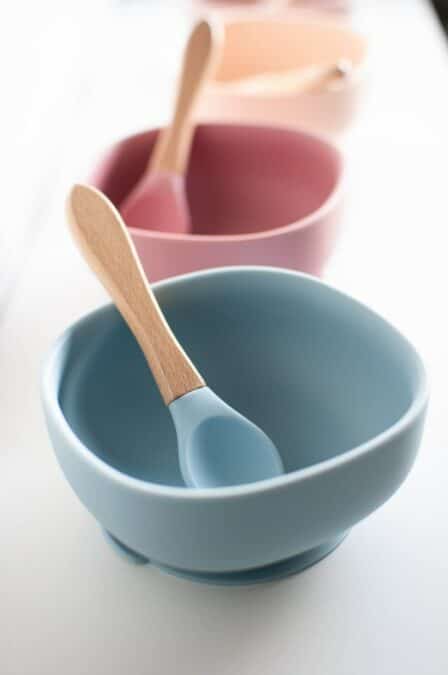 Silicone is a very popular material for baby's dishes, and it's understandable! Unbreakable and flexible, it is ideal for the child to hold and does not hurt his mouth. Many models are equipped with a suction cup to hang on the table, in order to facilitate the meal of the toddler: no risk that the food falls on the ground! The cutlery and handles of the various silicone utensils are generally non-slip, to avoid slipping between the child's hands.
Silicone tableware is therefore shock resistant. It is a practical material, since it is very easy to clean. Many models are even dishwasher safe. All the utensils that baby needs are available in silicone: cups with or without handles, bowls, plates, placemats, cutlery, and even bibs.
Silicone tableware: fun and attractive for baby
Silicone tableware is available in many colors. It is ideal for creating a fun and attractive mealtime for your child. Bright colors compete with pastel tones when choosing baby's first silicone dinnerware set.
There are also models with original shapes, especially for plates. Animals are also the stars of silicone tableware. This also allows to gain in practicality. The different parts of a fox, for example, form separate compartments of a plate: ideal for baby to understand that he eats different foods. Or the ears of a rabbit protruding from a bowl allow a better grip to catch it.
How to choose your baby's silicone tableware?
The vast majority of silicone tableware sold in the European Union meets strict safety standards. However, it is important to check that the utensils you use are authorized for food contact and can contain hot food.
For your child's health, you should also be careful about certain chemical compounds, such as Bisphenol A (BPA) and phthalates. Your silicone baby ware should be free of these. If you want to put these utensils in the dishwasher or microwave, make sure that this is possible, otherwise they may become deformed or damaged.
Silicone dinnerware has many advantages to appeal to families and especially babies. It will withstand their enthusiasm during meals, while offering a wide range of colors or playful shapes. To complement silicone accessories, you can also turn to bamboo tableware, which is lightweight and eco-friendly.