Ce que vous allez apprendre
masquer
We think of offering a gift to the mother-to-be and too often we forget about the father. However, he will also see his life change with the arrival of the little one and this moment is also to be celebrated. So why not give him one or more gifts? Here are the most suitable gifts to please the father-to-be!
Practical gifts for the father-to-be, and why not?
If your friend is a father for the first time, he will obviously ask himself many questions to ensure his new role as well as possible. So why not offer him some answers? A book on parenting or becoming a father (a guidebook) can be very helpful in helping the gentleman not only take care of his child, but also take care of himself, understand what's happening to him, and know what to do to make the most of this change.
There are also kits for beginner dad, very well thought out. If dad wants to take charge of the logistics of baby's first months. A baby logbook for a new dad will be a great gift. He will be able to take care of baby in the best way possible by doing the daily tasks without taking the headache.
Once his role as a father is well taken care of, he will take care of baby. So, why not continue in the practical by offering him a baby carrier? It's a very useful piece of equipment for walking his little treasure very easily and it's very well suited to men who aren't particularly keen on pushing a stroller. He can even bring baby to work and continue to take care of his files while keeping baby against him! This accessory comes in several versions, from the classic baby carrier to the sling. Don't buy just any model, it must match the man's personality. Make sure you choose the right size of baby carrier. A little one weighs a lot (we understand) and if he keeps it for a long time, having the right size will prevent him from having a bad back.
Another element that can improve the beginnings of "cohabitation", the cododo bed. Because it's not only mothers who are passionate about their newborn, men can also share unique moments with their child. Even if he is not breastfeeding, this bed will reinforce the contact with the father and will reassure him and baby. This exchange will create a very strong bond. Watching your child sleep is also an excellent way to relax and be at peace.
If daddy is taking care of the baby outside for a whole day, he can also love the "daddy bag", a changing bag that shows the color. He'll be able to slip in everything he needs for baby.
Gifts to please him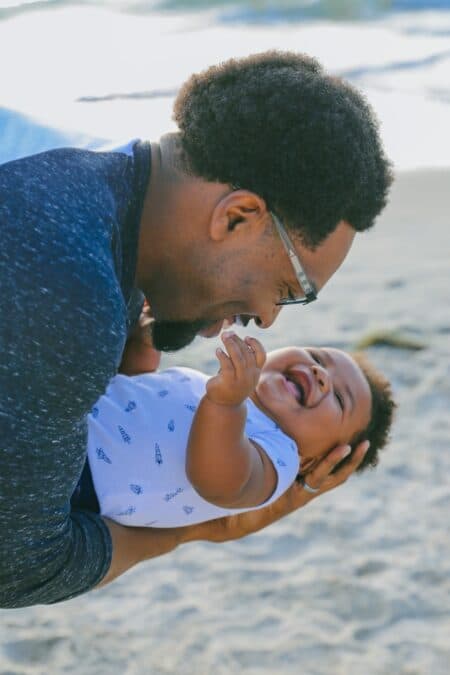 The father-to-be, like the mother-to-be, is going through a very stressful time with all kinds of emotions. So why not offer him a moment of pleasure just for him? For this you have the choice according to the tastes of the man. You can offer him a spa or massage session to relax or an escape game alone or with his friends, hours of video games in the gym.
If you don't know the father-to-be well or if your budget is smaller, you can also turn to humor.
Several gifts will then be very appreciated. A sweatshirt or a t-shirt with a funny message related to his new fatherhood will be an excellent idea ("I can't, I'm a daddy", "Daddy, level unlocked"…). He can then proudly display his new role.
You have a very tight budget and would still like to please? We have an idea that will cost you less than 10 euros and that will certainly make dad laugh: the stroller permit! This little pink piece of paper plays on the humor and is a very appreciated "document" for the new driver. There are also survival kits dedicated to dads including a guide, earplugs, a funny bodysuit for baby…
A pretty bracelet with the baby's initial can also please the gentleman, as can an imprint frame. It is an object that Dad can create with baby. A few photos, some plaster, the feet and hands of the newborn and a little time and there you have it, daddy artist! And moreover, he will be able to keep this souvenir for a long time and be very proud of it.